Skip to product information
Freia
Freia Daim Cookies 184 gram (Kjeks)
L 6257711 / 7622201389253
kr 69.90
No Compromises
In Quality

100% Satisfaction
Guarantee

Express worldwide
delivery
Chomp on the crunchy chunks of Daim in Freia's cookies. Perfect when you're in the mood for something tasty, solo or with your peeps.
Go ahead--treat yourself and your friends! Freia's cookies have the perfect crunchy chunks of Daim to satisfy your cravings. It's an indulgent way to some fun together.
Ingredients
Wheat flour, sugar, palm oil, cocoa butter, cocoa mass, dry milk, glucose syrup, raising agents (ammonium carbonates, sodium carbonates, diphosphates), whey powder (milk), salt, skimmed milk powder, flavourings, almonds (0.3%), milk fat, whey product (milk), oat flakes , sweetened condensed skimmed milk, emulsifiers (soya lecithins, sunflower lecithins), butter, coloring (carotenes), surface treatment agents (gum arabic, shellac).
Nutritional content per 100g/ml
Energy 505 kcal / 2114 kJ
Fat 27 g
of which saturated fatty acids 14 g
Carbohydrates 61 g
of which sugars 35 g
Protein 4.9 g
Salt 1.4 g
Shipping Policy:
We ship to all countries worldwide
Orders are typically processed and shipped within 1 - 3 business days, but normally next business day.
Shipping rates will vary based on the size and weight of the item(s) and the destination.
We have a 30-day return policy - please see our terms and conditions.
Frequently bought together
Here is a selection of products recommended to you, based on other customers interests.
F.A.Q
Contact our LIVE chat (bottom left corner) if you can't find answers here.
We ship to all countries around the world 🌍
All orders to international customers are normally shipped within 1 - 3 days depending on stock levels. Normally after shipping, packages will arrive to customers adress in 2 - 7 business days with DHL 📦
We accept Visa, MasterCard, Discover, and American Express. Customers can also use Gpay and Apple Pay where available.
We will send tracking information to the e-mail address associated with your order once the item has shipped.
If you have not received your tracking information and it has been over 2 business day, please contact us at by clicking here
When ordering as a gift for someone, be sure to enter in your email address to receive all summary information but enter in the recipient's name and shipping information. We will be sure to keep all prices and receipts out of the package. Please also write gift in the order notes.
You can recieve a refund for damages or faults with the products, if you can supply us with photos and evidence.
Otherwise you can return the products if unused and undamaged to us within 30-days for a refund. You must pay return shipping. Please contact support before sending a product in return or if you have any questions or claims by clicking here
Your recently viewed products
Our latest blog posts
A list of iconic Norwegian products that are no longer in production

How to celebrate 17th of May like a Norwegian - read how Norwegians celebrate.
Recently Wishlisted
Add on optional description to this section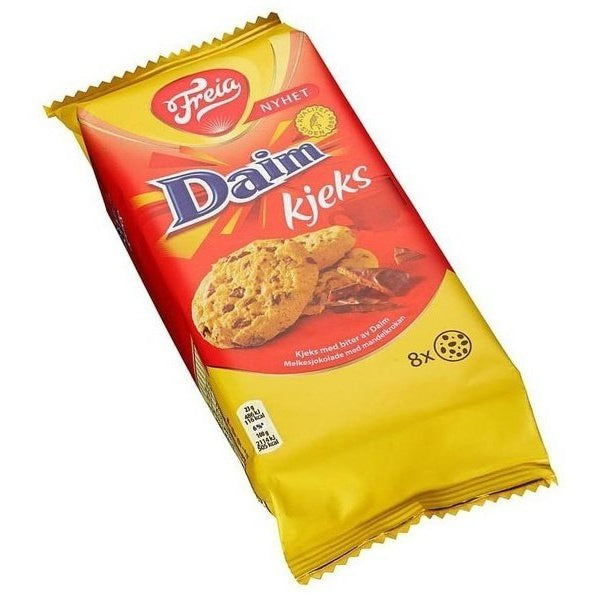 Freia Daim Cookies 184 gram (Kjeks)
kr 69.90